Love Knowle Park
LoveKnowlePark is a community led group whose mission is to increase the enjoyment of Knowle Park as a place of natural beauty supporting recreation, health and social well-being of residents and visitors.
A vital part of our lovely village. The Love Knowle park group needed funding for new equipment as the existing playground is run down. Eric Lyons donates £1,000 towards the project. Used by generations of the Lyons family with many great memories, it was an easy decision to fund such an amazing community project.
If you would like to offer a donation or help support the project please visit –https://www.loveknowlepark.co.uk/sponsorship/our-sponsors
Knowle Village Cricket Club
We proudly sponsor the best team in Solihull Knowle Village CC . A picturesque ground with the best BBQs a sports club has ever seen. 🥩😍
We provide the club with free BBQ food and have recently donated £500 to the club due to loss of funding over covid.
They are always welcoming new members, so be sure to sign up as a playing member / social member or bring your children along to the thriving junior section. For more information visit, click here.
A special pie we produced for the club's end of season get together: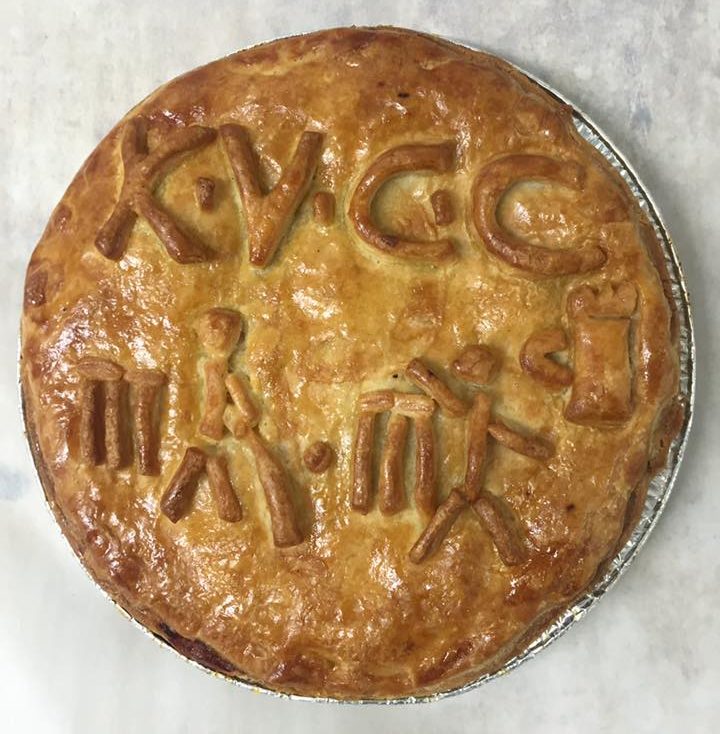 Solihull Moors Football Club
And it's Eric Lyons through 1 on 1 with the goalkeeper… HE SCORESSS HIS FIRST GOAL FOR SOLIHULL MOORS! 🥅
We have partnered up with Solihull Moors Football Club to offer the best match day experience on and off the field. Our famous sausage rolls and savoury pies will be served at the ground on match days. Alongside lots of other exciting offers throughout the season. 🥧
The search for the best football pie is over. Get yourselves down to Solihull Moors FC on a matchday!
Visit Knowle
Visit Knowle is a business led body, formed in May 2019 by a group of volunteers from businesses, community groups and residents. Our work has been shaped by extensive business surveys and engagement. In June 2020, we became a Company Limited by Guarantee.
Nick Lyons is one of the directors and member of the events team.
Our vision:
To sustain the long-term future of Knowle by helping businesses to flourish and by providing a compelling experience for our residents & visitors. In simple terms, we want to raise the bar for our businesses and everybody who visits Knowle.
In other words, Visit Knowle will work to deliver real improvements and to enhance our community spirit in order to provide a brighter future for all.
https://www.facebook.com/visitknowle/photos/a.408775355862251/5383190285087375/
For more information or to become a member please visit – http://visitknowle.com/about/
Tommy Godwin Sportive
We have donated our delicious sausage rolls to the Bearley stop of the Tommy Godwin Sportive in aid of Marie Curie West Midlands Hospice in memory of the 1948 Olympian Tommy Godwin
Cancer Research UK
Thank you for all of your support and donations! We gathered over £70 in donations from generous customers and we are happy to have matched that amount!
"We make a living by what we get, but we make a life by what we give."
For future community collaborations please message us on our social media channels or email us [email protected]